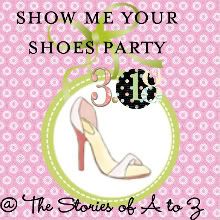 Really, I just love bare feet.
I actually think my feet are my best feature.
Now that they're all zoomed up though, my left pinky toe looks kind of wonky.
There ya go, even my best feature is flawed.
Mostly I like that the toes go down at a nice angle.
Also, my feet are really small-like a 4 in kid's or a 5 in women's. Sometimes I can't find my size so I will buy a 6 and just wear them even though they are sort of uncomfortable because my foot slides all over the place.
Don't they look so cute all together?
I'm five feet zero inches tall so you would think that I would favor heels, but
I LOVE FLATS!
They come in so many fun colors and lots of times they have bows, and I really love bows!
And because my daughter is following in my footsteps (Ha! Get it?), I wanted to show off a few of her favorites.
Fun party!
Stop over and visit
Beth
on the 18th
or right now.