my camera doesn't capture how stinking cute something really is!
These are my take on the fun alphabet block ornaments. I've decided to hang mine by the metal doohickies that you hang ornaments with. Also the cutest part is the sanded edge of the scrapbook paper that I totally pefected and you can't even tell in the pictures-urggg. Some of the blocks had cute pictures (like a butterfly) so I didn't cover those-just thought you'd wanna know.

Even though it's not really that "Christmas-y", a black ribbon really does it for me.
a B for my baby girl Blanche
The plaid is really super cute in real life.
J for my neighbor's kid & P for the Porterboy
I also did some with numbers (not pictured because they weren't quite done) a 3 and 4 for my neice and nephew's ages.
Ok, so I'm in love with these and I think a lot of people are going to have them attached to their gifts...The End.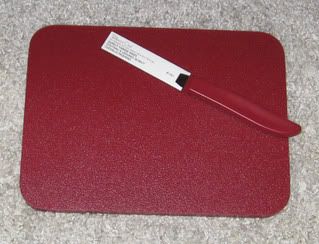 PS my biggest help in making these little presents was my little Pampered Chef cutting board...ok I did not know these came in colors (mine is white) so I'm going to be finding a consultant somewhere to hook me up...anyway I've always used it for cutting food, but it is now my official crafting cutting board-it works fantastic with an exacto knife-love it!